Good Morning!
It's Natalie again today and this week me and Sue will be showing you various ways to use Chipboard Bases! Today I am sharing with you how they are the perfect size for ATC's. For those that are unfamiliar with what they are these are 'Artist Trading Cards' of which crafters make and share with each other. They are about the size of a playing card and the Chipboard Bases I have are a perfect match for these size wise!
I have created 3 with quite individual styles for you all to try!
Starting off with the most feminine ATC ....
To create the background use a floral stamp inked up with Emboss It Ink and sprinkle over Clear Embossing Powder then heat set. Once dry swipe Distress Stains over the top, ink around the edges and wipe any excess ink off the flowers using a damp cloth. Finish by attaching a strip of white ribbon on the right side, adding a bow, dew drops and embellishing with a flower charm with liquid pearls added in the centre.
INGREDIENTS -
Heartfelt Creations 'Tattered Blossoms' Stamp Set
Penny Black Sentiment Stamp
Seam Binding Ribbon, Flower Charm & Dew Drops
Clear Embossing Powder
Liquid Pearls - Petal Pink & Ranger Glossy Accents
INKS USED -
Archival Ink - Jet Black & Emboss It Ink Pad
Distress Stain - Victorian Velvet, Milled Lavender & Shaded Lilac
Distress Ink - Shaded Lilac
Next up is the quickest of all three ATC's. Simply swipe 3 Distress Stains over the background and finish with the Spritz & Flick Technique and inking the edges. Stamp an image of your choice onto the ATC once the background has dried in black ink. Finish off by adding Dew Drops.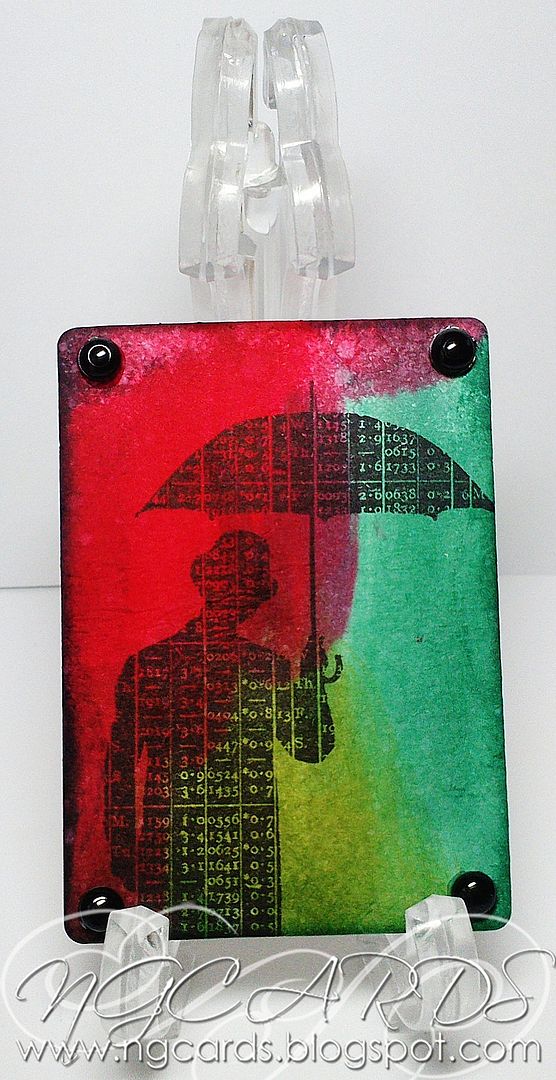 INGREDIENTS -
Tim Holtz 'Umberella Man' Stamp
Dew Drops
INKS USED -
Archival Ink - Jet Black
Distress Stains - Evergreen Bough, Peeled Paint & Festive Berries
Distress Ink - Evergreen Bough
Last up is my favourite out of the 3!
Create the background by once again swiping over some Distress Stains and using Archival Ink stamp a background stamp over the top, finishing by inking the edges. Using the stain ink up some ribbon and cheesecloth, heat dry then attach to the base. Creating a bow on the ribbon afterwards. Ink the edges of a word token then adhere in the centre with Foam Tape. Embellish using Flowers and Charms and not forgetting to add liquid pearls to the centre of the flower.
INGREDIENTS -
Papermania Chronology 'Cogs' Background Stamp
Tim Holtz Word Token, Wire Pin & Jump Ring
Clock Charm from J&C Creations
Seam Binding Ribbon, Cheesecloth & Flower Charm
Flowers from WOC
Liquid Pearls - Copper Pearl & Ranger Glossy Accents
INKS USED -
Archival Ink - Coffee
Distress Stains - Tea Dye & Gathered Twigs
Distress Ink - Vintage Photo
Thanks for popping by, I'l be back on Wednesday with
12 Tags of 2013 ... February!
HAPPY CRAFTING!
NATALIE
XXX