Good Morning!
Today I'm back with another way of decorating your Chipboard ATC's! Some of you may know that Tim Holtz released a brand new product recently called 'Distress Paint!' Well of course seeing I am such a fan of his products I had to get myself a couple of these and I thought what better way of testing them out than with all of you! So why don't you try using these on your ATC's or any other projects for a change???
Here is a brief description of what these exactly are incase you are unaware ...
Distress Paints are very fluid water-based acrylic paints for multiple surfaces. Tim and Ranger developed these special paints to be reactive with water just like Distress Inks and Distress Stains—perfect to accomplish a wide variety of artistic techniques. Distress Paints have a convenient dabber system for easy and mess-free application. Use with stamps, paper, wood, metal, glass, plastic and more for a timeless matte finish on craft projects.
24 colors that coordinate with the Distress palette
Very fluid water-based, multi-surface acrylic paint
Timeless matte finish paint in 1 oz. bottles
Reactive with water like Distress Inks and Stains

Convenient dabber system application





I love the fact that these react with water and can create such great make effect backgrounds. I really would recommend that you give these a try.

To create today's ATC's I simply swiped and pressed the Distress Paints over the top of the bases and spritzed with lot's of water, tilting side to side to create a more marbled effect background. Be careful you don't squeeze the bottle though as I made the mistake of that with the pink bottle and it came out everywhere! lol Once the background had dried I then used the paints on some stamps and printed on top.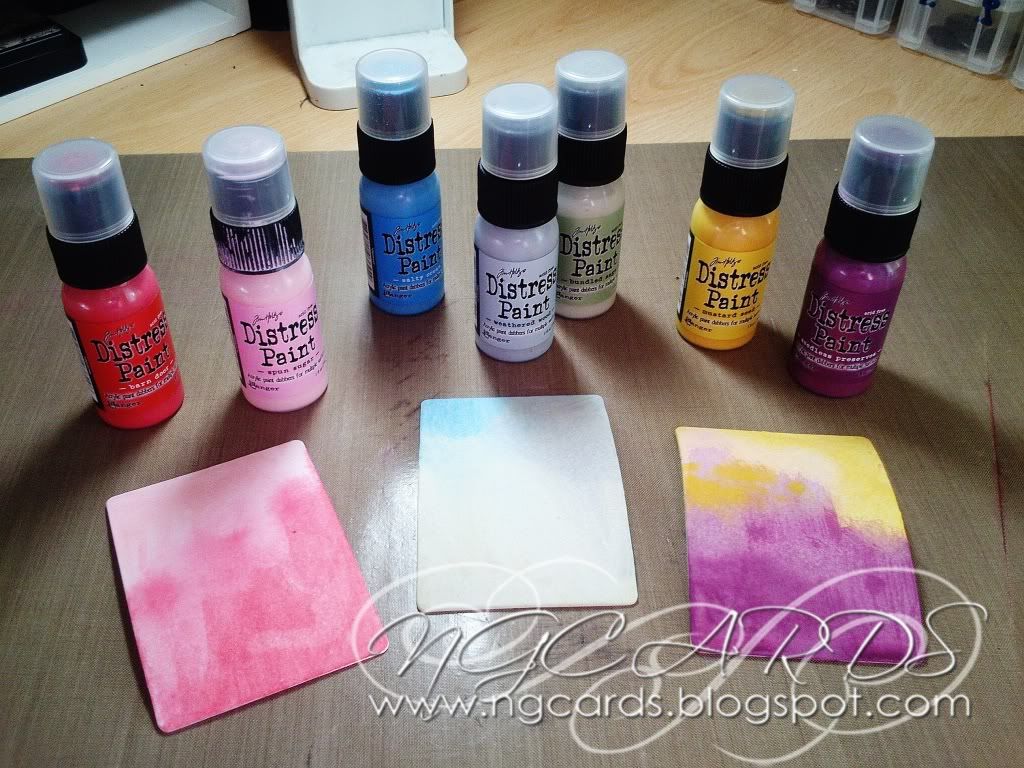 To complete the ATC's I simply embellished with a few flowers & dew drops.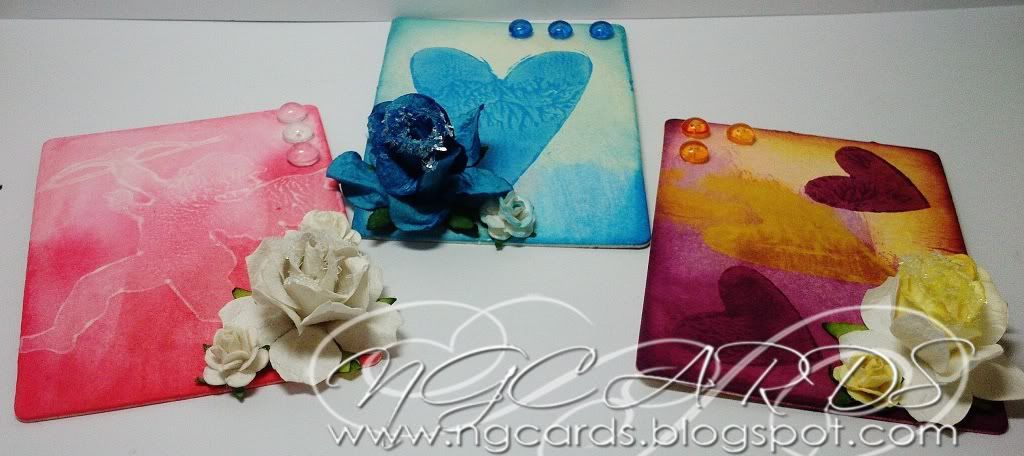 Tim Holtz 'Valentines Silhouettes' Stamp Set
Incase you wanted to know here are the paints that I used the stamp the images.
I have also used Distress Inks to go around the edges of the ATC's.
INKS USED -
Distress Paints - Seedless Preserves, Picket Fence, Mustard Seed & Salty Ocean
Distress Ink - Worn Lipstick, Salty Ocean & Seedless Preserves

Thanks for popping by, I'l see you all again on Monday!
HAPPY CRAFTING!
NATALIE
XXX